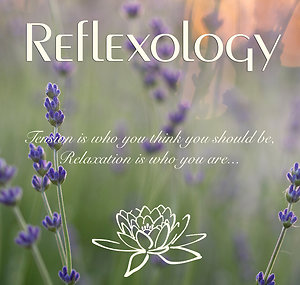 REFLEXOLOGY
Reflexology is a complementary therapy that uses massage and pressure techniques on the feet (and sometimes hands). The theory behind Reflexology is all the organs & systems of the body are reflected in the smaller peripheral areas (such as feet & hands) and by working these areas you are restoring balance. It is deeply relaxing and aims to reduce stress and thus attain homeostasis. A choice of specially blended waxes are used and the treatment starts with calming, relaxing effleurage techniques, in other words, a wonderful foot massage.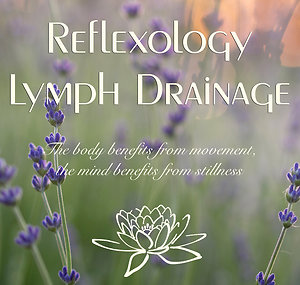 REFLEXOLOGY LYMPH DRAINAGE
This is a focused variation of Reflexology, specifically working on the body's Lymphatic System. Originally adapted for people with Lymphoedema, it has been shown to be beneficial for a number of inflammatory conditions (such as arthritis) also Chronic Fatigue, Fibromyalgia. For clients coming with Lymphoedema, I can measure the affected limb(s) & work out the volume of lymph that's been moved during the treatment (we measure before & after the treatment). I usually only do this on request as it adds on quite a bit of time but it's a great way of showing tangible, measurable evidence that this therapy works. It's still a very relaxing treatment but is primarily to help the lymph move/drain.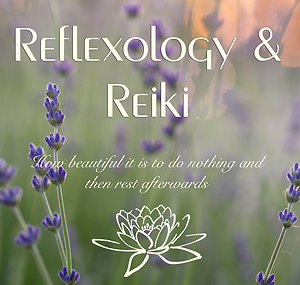 REFLEXOLOGY & REIKI COMBINATION TREATMENT
A combination treatment that incorporates both Reflexology and Reiki for the ultimate in relaxation and rebalancing. A full reflexology treatment is given and this is then followed by reiki given at certain main chakra points and anywhere that may be causing you discomfort. A lot of clients describe this as warming, calming, fizzy, colourful (the reactions are many and varied), the reiki energy goes where it's needed and the combo treatment leaves you feeling balanced and rested.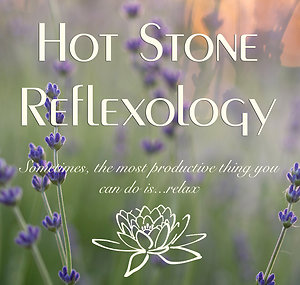 HOT STONE REFLEXOLOGY
Using both my hands and hot stones throughout, this Reflexology treatment combines deep relaxing massage of the lower legs using heated basalt stones and heavenly scented massage wax. The heated stones (of varying sizes) are also used for more precise pressure on the soles of the feet, mimicking a more traditional reflexology treatment. It's incredibly relaxing as the heat adds that 'something' extra to the reflexology treatment.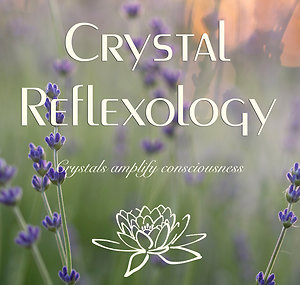 CRYSTAL REFLEXOLOGY
Crystal Reflexology has all the benefits of traditional reflexology with the added bonus of the healing energies of crystals. I like to think the crystals amplify the energy exchange and also works on a number of energetic levels both physically and emotionally. This treatment uses normal reflexology massage techniques on the feet but also uses crystals on and around the feet and lower legs.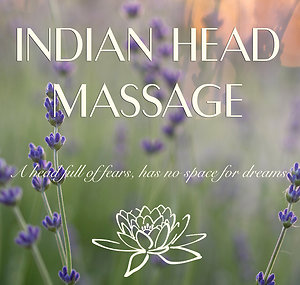 INDIAN HEAD MASSAGE
A heavenly treatment that can be done in the traditional seated position or, if preferred, laying on a massage couch. IHM incorporates massage techniques of the scalp, neck, upper back, shoulders, arms, acupressure points on the face as well as facial massage, the hair is also worked on (with or without oil). Various massage techniques are used to stimulate and calm in equal measure. Anecdotal evidence has shown this treatment to help with sinus pressure, headaches, tension in the upper back and a general reduction in stress.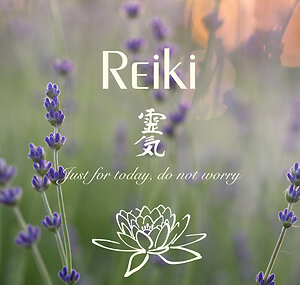 REIKI
I adore Reiki (pronounced Ray-Key & meaning universal energy). It is so versatile, it can be used on literally anything or anyone! Based on the premise that everything is made up of energy, Reiki is a way of channeling that energy to help flow. It can be a stand alone treatment with both hands off and hands on throughout, focussing on certain positions from the head to the toes. It's incredibly relaxing and how it makes you feel varies from person to person. Reiki can do no harm and is given for the client's greatest good and with the practitioner's best intentions. It's also a wonderful addition to the other therapies as you are working truly holistically addressing both the physical and emotional/spiritual aspects.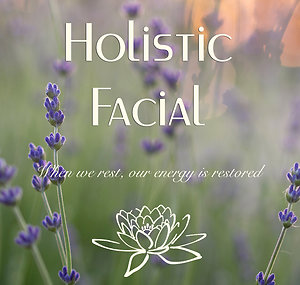 HOLISTIC FACIAL
This treatment is less about what skin type you have (I'm not a beautician) but more about working with you on an energetic level and concentrating on specific acupressure points on the face and décolletage. The products used are really secondary rather than being the main focus, although you will feel very pampered afterwards. I use warm towels and do a routine of cleansing, toning and moisturising. This treatment also incorporates a scalp/face massage. It feels very nurturing and calming.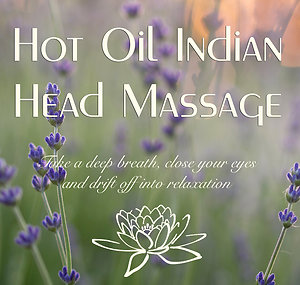 HOT OIL INDIAN HEAD MASSAGE
The same wonderful benefits of an Indian Head Massage but with the use of warmed oil which feels both luxurious and indulgent. The oil is left in your hair until you get home (after care advice is given about washing it out but some clients like to leave in overnight as an extra treatment for their hair). This treatment follows exactly the same techniques as a normal Indian Head Massage; working on the scalp, neck, upper back, shoulders, arms, face but extra time is spent on the scalp and the oil used is warmed before use. Please note, it's not poured on in a continuous fashion like some treatments you may have seen - I don't have the drainage facilities for that but it's applied by gentle dripping and dabbing. It really is a beautiful treatment but only book if you know you can just go home without worrying you have oil in your hair. This treatment can be done in the traditional seated position or with you laid on a massage couch. Please specify when booking which you would prefer.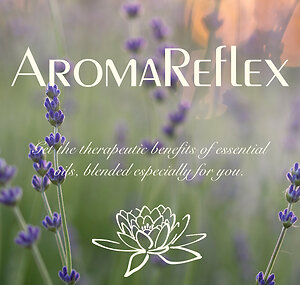 <emaromareflex< em=""></emaromareflex<>
This delicious treatment has all the benefits of Reflexology BUT with all the added benefits of Essential Oils. After a consultation, I will make up a bespoke blend using oils that will best serve you. I use an unscented Reflexology wax as the base and add in the hand picked Essential Oils. I will then use that blend for your Reflexology treatment and you take the remainder home with you, I also will give you a tailored aftercare sheet with the relevant reflex points for you to work at home. It's a 30ml pot and it lasts a good few weeks.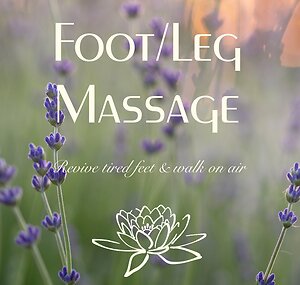 FOOT AND LOWER LEG MASSAGE
This treatment is a "must book" if you have a job that means you're on your feet a lot and have worn out achy feet. It's for people who love the idea of a foot massage but don't necessarily want to book in for Reflexology. This treatment is purely for relaxing tired feet and incorporates lots of lovely effleurage movements to the feet and lower legs (below the knee). Using Songbird Massage Wax, this foot and lower leg massage will revive your tired feet and leave you walking on air. Whilst a Reflexology treatment does include some of these relaxing moves, it's more centred on reflex work whereas this treatment is pure, blissful massage. If you opt for the 45 minute treatment, it will include a foot soak. Whilst the feet are soaking, I give a mini Indian Head Massage treatment, concentrating on shoulders, upper back and a little work on the scalp. This is done over clothes and is incredibly relaxing.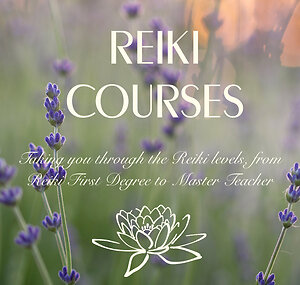 REIKI COURSES
I am a Reiki Master Teacher and am offering face to face Reiki courses (in very small groups). Taking you from Reiki I (First Degree) through to Reiki Master Teacher (if you wish to go on to teach yourself), or you can just do Reiki Master if you do not wish to teach. Reiki I and Reiki II (Second Degree) are two day courses held in West Sussex. Reiki Master is a 2.5 day course and Reiki Master Teacher is a 3 day course, also held in West Sussex. These courses are done in groups of 2 or 3 only. More information on the tab 'REIKI COURSES". Ready to start your Reiki journey? then please get in touch :-)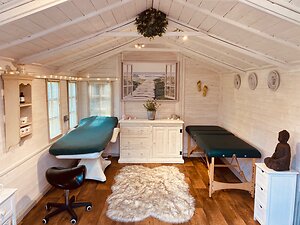 ABOUT THE TREATMENT ROOM
Tranquility Therapies is run from a dedicated garden Cabin. It's a lovely calm space with a comfortable treatment couch for Reflexology, Holistic Facials and couch adapted IHM. A low backed chair for traditional IHM and there is also an easy chair for any chaperones to make use of.